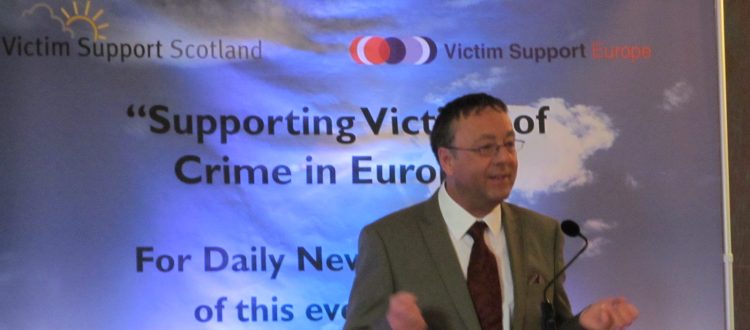 VSE Annual Conference "SUPPORTING VICTIMS OF CRIME IN EUROPE – THE EU DIRECTIVE"
Edinburgh 29th May – 1st June
On the 30-31 May Victim Support Europe held its Annual Conference in Edinburgh at the Waldorf Caledonian Hotel. With over 20 workshops and 5 plenary sessions, the Conference "Supporting Victims of Crime in Europe – The EU Directive" approached the topic of victims' rights in the EU from several angles and aimed to provide the 200 participants with clear and practical information on five main areas of victim support. These included human trafficking, cross-border victims, new types of victimisation and different approaches to support services.
The Conference opened with speeches by the chairman  of Victim Support Scotland, by the Irish Minister of State speaking on behalf of the EU Irish Presidency, by the Cabinet Secretary for Justice from Scotland, and by the President of VSE. Viviane Reding also addressed the Conference through video where she praised the work of victim support organisations as crucial for the implementation of the EU directive on victims' rights. During the Conference several workshops were delivered covering a broad spectrum of experiences, including the European Commission, the Fundamental Rights Agency, victim support organisations, the police, university centres, Eurojust, and NOVA from the United States.
The second day opened with a reflection on the work ahead to ensure victims' rights are implemented and respected. The session included contributions from Dr Antonyia Parvanova MEP, one of the rapporteurs from the European Parliament for the EU directive on victims' rights, from Ingrid Bellander-Todino from DG Justice of the European Commission, from the Executive Director of NOVA and the Vice-President of Victim Support Europe. In the closing session, HRH The Princess Royal addressed the Conference along with the Chair of INTERVICT, Marc Groenhuisjen, and Simona Mesoniené from the Lithuanian Ministry of Justice.
A detailed summary of the eventful days can be found in VSE's website.
On the 1 June Victim Support Europe held its Annual General Meeting in Edinburgh during which Executive Board elections were held. We are delighted to present our new Executive Board: David McKenna, President (Victim Support Scotland, UK); João Lázaro, Vice-President (APAV, Portugal); Helgard van Hüllen, Treasurer (Weisser Ring Germany); Victor Jammers (Slachtofferhulp, The Netherlands); Sabrina Bellucci (Institut National d'Aide aux Victimes et de Médiation, France); Jo Keaney (Victim Support England and Wales, UK); Tiina Rantanen (Rikosuhripaivystys Suomessa, Finland).