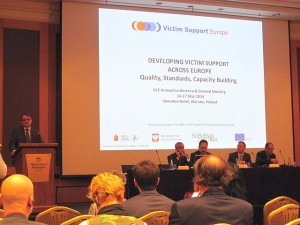 VSE Annual Conference 2014: a success!
Victim Support Europe's Annual Conference 2014 "Developing Victim Support across Europe – Quality, Standards and Capacity-Building" took place in Warsaw, Poland, from 14 to 17 May 2014 and was hosted by our Polish member organisation Subvenia Victima.
The conference counted more than 200 participants including victim support practitioners, EU member states representatives, academics and journalists. With more than 50 presentations divided into 5 plenary sessions and 14 workshops, the conference was an excellent opportunity for fruitful best practice exchange, particularly regarding the implementation of the EU directive establishing minimum standards on the rights, support and protection of victims of crime. The main topics for discussion and debate were quality and standards in victim support, next steps to successful delivery of the EU directive on victims' rights, capacity-building for victim support organisations as well as new challenges and victim support beyond 2015.
We were honoured to count among our speakers the Justice Minister of Poland as well as other prominent representatives from the European Commission, the Council of the European Union, EUROPOL, the Greek Presidency of the Council of the European Union and from the upcoming Italian EU Presidency.
We would like to express our heartfelt thanks to Subvenia Victima for their wonderful hospitality.
PRESENTATIONS MADE AT THE CONFERENCE CAN BE FOUND HERE
THE CONFERENCE PACK CAN BE FOUND HERE