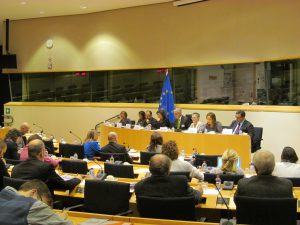 Last year Victim Support Europe held its annual General Meeting in Brussels in november 18-19. In total 14 Full Memebers – including White Ring Hungary – and 8 Associate members were participating at the event.Please find the draft minutes of the GM here.
On 19th of November three different workshops were held by the VSE. There was a workshop about training – for volunteer, for police officers, and other people, who are involved in the criminal proceedings, and involved with dealing with victims of crimes.
The second workshop was about cross-border collaboration – we joined this session. We exchanged experience dealing with cross-border victims, and we were discussing about how the EU Directive deals with cross-border victims.
The third workshop was about accreditation – the main purpose of this session was the idea, to make a unified standard for all members of VSE about supporting victims of crimes.
The detailed results of the three workshops, and discussions following them, are available here.