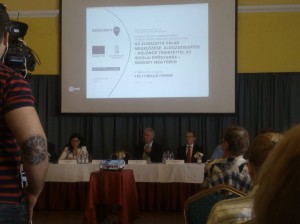 Conference on school violence in Somogy
The Somogy County Government Office and the Somogy County Police HQ invited White Ring Hungary on 29th of May 2015, to participate in the conference called "Preventing victimization, victim support – in particular with regard to school violence – in Somogy County".
At the event in Kaposvár, the Justice Minister dr. László Trócsányi, deputy of government dr. Neszményi Zsolt, and dr. Piros Attila, Somogy County Police chief gave a presentation.
During the conference, our Association thanked for the Justice Minister for his efforts in the area of victim support, and we also started to build contacts with several NGOs attended the Conference.