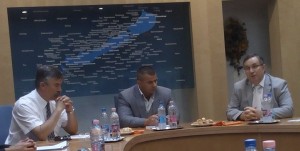 The summer tourist season has begun at Lake Balaton
Siófok Mayor, Dr. Róbert Lengyel, and Police General Lietunant Dr. József Hatala, the President of National Council of Crime Prevention has officially opened this years' tourist season at Lake Balaton. After their opening speeches, a press conference was also held.
During the press conference White Ring Hungary was also mentioned. At Balatonlelle, Siófok, Balatonföldvár, Balatonszárszó, 200 at Fonyód, and Marcali 60 more high school student provides patrolling service, and under the control of police officers they are handing out leaflets of White Ring Hungary. In recent years these students played a major role in reducing numbers of pickpocketing, and theft on the beaches, finding lost children, and car thefts being committed.
White Ring Hungary has offices at Siófok, Keszthely, Tapolca, Balatonfüred and Balatonalmádi opened all year long and offering help for victims of crime.