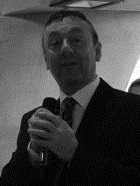 The Chairman, Executive Board and management of Victim Support Scotland are sad to announce the death of David McKenna OBE, FRSA, Chief Executive of Victim Support Scotland and President of Victim Support Europe. David McKenna was the iconic victim supporter of his time. A pioneer of the development of victim support services across the world and indefatigable in his pursuit of victims' rights.
Through his energy and dedication he revolutionised the landscape for victims of crime, both nationally and internationally. In 2010 following his role as secretary and vice president, he became President of Victim Support Europe where he pursued the development of Victim Support Europe with a passion, from being a network of national members to becoming a key stakeholder in European justice matters. He established a head office in Brussels and built links with the EU parliament, the European Commission as well as individual Members of Parliament and partner agencies. He secured victims rights as a top priority in the European Union's Justice agenda. His skills as a negotiator ensured that incoming EU presidencies highlighted victim issues as part of their priorities during their terms, which carried the momentum forward.
David led the expert input into the development of new victims' rights legislation and was able to negotiate the adoption of the 2012 Victims' Rights Directive in 18 months from start to finish, the fastest any EU Directive has been agreed.
In 2011 David was awarded an OBE for his services on behalf of disadvantaged people.
He will be remembered as a world-leading visionary and source of inspiration in the global development of victim support, with a lasting legacy in the development of victim support organisations.