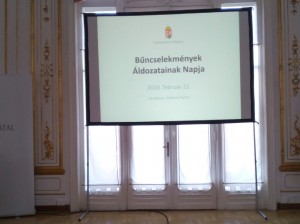 Conference on the Victim's Day
Our Organization got invited by the Office of Justice to the professional conference on occasion of the International Day of Victims of Crime.
The event took place in the Stefánia Palace, and was opened by, dr. Tamás Szeiberling, chief director of Office of Justice, followed by the representative of dr. László  Trócsányi Minister of Justice, who handed out several recognitions, and held a press conference before the first presentations.

First, dr. Aniella Ferenczi Head of Department of the Office of Justice, presented the 10 year old State Victim Support Organization's yearly report of 2015. Followed by Ágnes Németh police Lt. Col., who spoke about crime prevention and victim protection jobs done by the police in 2015. Last one before the lunch break, it was dr. Erika Magyar from the Office of Justice, who talked about mediation on the victim's side.
After the lunch three workshops were formed to exchange experience about:
– section of the Victimology Division of Hungarian Society of Criminolgy.
– workshop for projects realizing with the help of the National Crime Prevention Strategy
– panel discussion about the role of the historical churches in the field of victim protection and crime prevention.