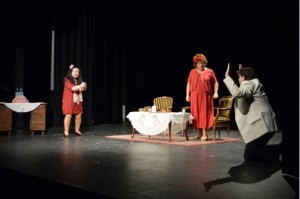 Theatrical performances about crime prevention in Kecskemét
For the fifth time the Bács-Kiskun County Police HQ and the József Katona Theater in Kecskemét organized a theatrical performance about crime prevention, with the title of "Crime Scene", with the aim to widening the possibilities of crime prevention especially for the vulnerable and older age groups.
The National Crime Prevention Council provided assistance to help organizing the series of programs on the basis of the successful tender called "Our common goal is safety" by the Bács-Kiskun County Police HQ.
For the staging, members of elderly clubs of cities of Baja, Kalocsa, Kecskemét, Kiskőrös, Kiskunfélegyháza, Kiskunhalas, and Kunszentmiklós, and the retired officers of the County Police HQ received invitation. On the three performance, nearly 400 eldery spectator participated.
At the event there were present the representatives of the National Crime Prevention Council, the National Police HQ, the Békés, the Jász-Nagykun-Szolnok, the Csongrád, and the Tolna County Police HQ, the Bács-Kiskun County Health and Social Institute Directorate, Guardianship and Justice Department of Bács-Kiskun County Government Office, Bács-Kiskun County Disaster Management Directorate, the Danube-Tisza Village Caretaker Network, and the president and local staff of White Ring Hungary. Our president and office managers  of our Kiskunfélegyháza and Kecskemét Office presented the services of these offices.
The event was created under a specific cooperation, and because of the successful tender project, it was free of charge for the invited elderly. This enabled that the targeted group age receive enjoyment, and knowledge through the work of actors and police experts by the special means of prevention.
The choice of the theme and the story were dealing with real criminal problems. The episodes covered topics like "grandchilding", different ways of tricky scams, marriage frauds, etc.  The theater was a tool and a scene for work of crime prevention.
The scenes presented by tools of acting were helping the understanding of criminal the special criminal thematics, and with this were assisted in reaching the aim of the night: helping to improve the personal and property safety of elderly people.
The interactive method has given an opportunity for the target age group to getting know with representatives of gonvernmental and NGO victim support organizations and special efforts made by them.