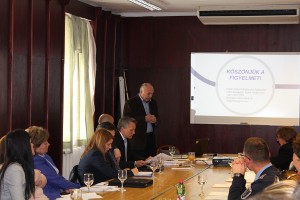 On 22nd of April the President of our organization attended a forum of victim support expertees in the lovely city of Pécs, where he also made a presentation about the activities done by White Ring Hungary. The  all-day long event offered a great opportunity to exchange experiences with the local colleagues, and beside there were some great presentations made.
Presentations are available to download or to view online in Hungarian language.
The report of the activites done in 2015 by the Baranya County Government Official Victim Support is available here (prezi.com).
The presentation of the Baranya County Police HQ about its work of crime prevention and supporting victims in 2015 is available to download here.
The presentation of Mr. László Fügedi of White Ring Hungary is available here (prezi.com).