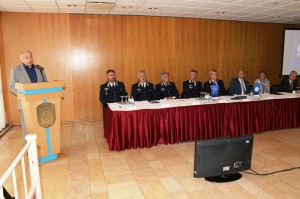 Season opening at Lake Balaton
This year the  Lake Balaton Public Security Coordination Commitee held its annual tourist season opener meeting, this year led by the Veszprém County Police Headquarter. White Ring Hungary was also participated at the meeting, we made a presentation about  our offices working in the area of Lake Balaton and Lake Velence.
In each year the main task of the Commitee and the Veszprém County Police HQ to handle with the summer toursits season's local public safety to protect Lake Balaton and the attractiveness of the region, and provide the safety of the tourists and the inhabitants.
President of White Ring Hungary, Mr. László Fügedi was present at the meeting of the Commitee and he described the work and operating of our eight offices in the area of Lake Balaton and Lake Velence.
Our President highlighted at the meeting, that White Ring Hungary now also concentrates on innocent victims of traffic accidents, and asked the staff of present Police HQs to widening its actions  to the more efficient work of White Ring.