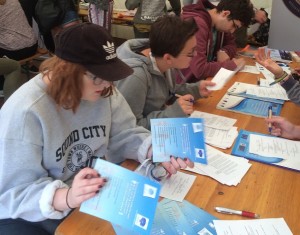 White Ring attended the Sziget Festival
As it happened in the last few years, White Ring Hungary also had the oppurtinity to present itself at the Sziget Festival at the tent of the Ministry of Interior. The main topic at their tent in this year was victims of crime in connection with human trafficking.
The visitors of the festival, who entered to the tent of the Ministry of Interior, had an opportunity to complete several tests and surveys about humanic traffic – both in hungarian and english language.
The participants received a stamp into their passport of Sziget, and they also had the opportunity to chose from the following Sziget-themed merchandising presents for example like flashlights, raincoats, or small health-kit, etc.
At the tent of the Ministry of Interior, there was a chance for all participants to try the so called "drunk-goggles". The goggles causes double sight, and stimulates neural pathways, so the wearer feels like someone completely drunk, and makes movement rather uncoordinated. The aim of the game is to walk by a straight line, which is very hard to achieve.
This year White Ring Hungary was the guest of the Ministry of Interior together with the Nameless Roads Foundation.
For the opportunity to show ourself at the festival, we are gratefutl for the Ministry of Interior, and for the organizers of Sziget Festival.