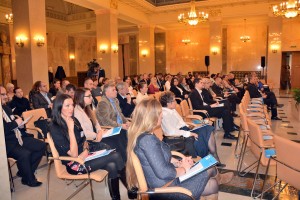 Actual issues of crime prevention and victim protection
White Ring Hungary organized a conference, with the adress above, at the Ministry of Interior, on 21st of October 2015. Nearly 100 participant attended to the event, where the governmental and civil organizations from the field of victim support and crime prevention had the opportunity to introduction of themselves.
The opening presentation of the all day long conference was held by dr. Zoltán Szombati, policy officer from the Ministry of Justice, about the constructing of the new Act of Victim Support, and the implementing of the EU Directive of Victim Support.
The second presenter was Eszter Gál, from the Ministry of Interior, who spoke about the issues of human trafficking from the point of view of the victim. She was followed by dr. József Hatala, commissioner, and president of the National Crime Prevention Council, and he reported about the work done in the Council in its first 2-year period.
After the coffee-break dr. Gábor Veisz from the Ministry of Justice introduced the recent changes at the State Victim Support Organization.
Col. Ágnes Németh of National Police Headquarters presented the latest tasks of crime prevention and victim support at the NPHQ, followed by Róbert Horváth vice-president of National Civil Guard Alliance, who briefly introduced procedures made by his Association on the field of victim support, and crime prevention.
Final thoughts were made by László Fügedi, the president of White Ring Hungary, who also said a few words about our organization, and had some closing remarks.
After the presentation the participants had some networking opportunity during the lunch.