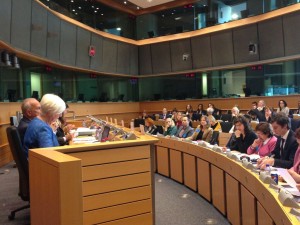 Victims rights in practice
Victim Support Europe held its annual conference and General Meeting in Brussels on 9-10th of november in 2015 with the title mentioned above, and invited White Ring Hungary. The conference took place in the József Antall building of the European Parliament, and on the second day, the GM took place, where VSE has elected Mr. Joao Lazaro as its president succedeing Mr. David McKenna who passaed away in August.
On the first day of the two day event in the building of the EP, on the conference all of the presentations were about the implementation of the new directive of the EU about supporting victims of crime. There are several members of the EU, which are fully implemented the directive, while there are a few countrys which are in a few months late, and there are countrys which need to work more on the implementation. The second part of the conference was about the victims with special needs – like victim of cyberbullying, or transgender victims.
On the second day the work started at the annual General Meeting of Victim Support Europe, with the election of the new president, as Mr. David McKenna, the former president passed away in August. Following the discussion of procedural issues, the GM elected former vice-president Mr. Joao Lazaro from Portugal as the new president of Victim Support Europe. Draft minutes of the GM is available to downloan here.
Following the lunch the work continued in 4 groups: 4 workshops formed, and discussed the possibilities of standardizing the services of supporting the victims of crime – presentation available here.
The following topic was the issues of cross-border victims, and the issue of how the VSE memberorganizations can cooperate with each other to help, and support a victim of a crime abroad – specially in legal and criminal procedures. The presentation on this topic is available here.
Following the closing speeches of the two day event, the VSE saluted the memory of David McKenna with a set of photos.
The next event of VSE will be held in Utrecht, the Netherlands, in May 2016. Invitation card is available here.